Romeo Dallaire resigns from Canadian Senate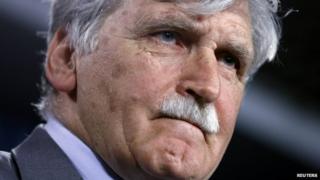 Retired Gen Romeo Dallaire, the UN commander in Rwanda during the 1994 genocide, will resign from the Canadian Senate, he has said.
His last day in office will be 17 June, he told colleagues on Wednesday.
Mr Dallaire, 68, has acknowledged he suffered from post traumatic stress disorder (PTSD) after witnessing atrocities during the genocide.
He has said he plans to dedicate his time to research on the disorder as well as other humanitarian causes.
"It is with some sadness, but indeed much optimism, that I announce that I am resigning from my seat," Mr Dallaire said in the Senate on Wednesday.
"There are so many things to do, as well as increasing opportunities to do them, that I find myself short of that most precious of commodities: time."
Among Mr Dallaire's planned endeavours after leaving office are to serve as a senior fellow at the Montreal Institute for Genocide and Human Rights Studies at Concordia University, and as a member of the UN Secretary General's Advisory Committee on Genocide Prevention.
He will also conduct research on PTSD in conjunction with the University of Southern California, and has been contracted to write two books on PTSD and conflict resolution, he said.
Prime Minister Stephen Harper thanked Mr Dallaire for his work via Twitter following the announcement.
"Thank you Senator Dallaire for your service to Canadians. Best wishes for the future," he wrote.
'Out of steam'
Between April and June 1994, an estimated 800,000 ethnic Rwandan Tutsis and moderate Hutus died at the hands of Hutu extremists.
The killings ended that July when the Rwandan Patriotic Front (RPF), a Tutsi-led rebel movement, marched into Kigali and seized control of the country.
As commander of the UN mission in Rwanda, Mr Dallaire sought to warn the UN hierarchy about the planned massacre but was denied permission to intervene.
He remained in Rwanda through the killing to protect those seeking refuge and has been credited with saving thousands of lives.
Mr Dallaire retired from the Canadian forces in 2000 as a lieutenant general and was appointed to the Senate to represent Quebec as a liberal in 2005.
In December he suffered a minor road accident, which he attributed to a lack of sleep due to stress over a spate of recent military suicides and the stress of the coming anniversary of the Rwandan genocide.
"I simply ran out of steam," he told Senate colleagues following that incident.