Irwindale ends lawsuit against Sriracha maker Huy Fong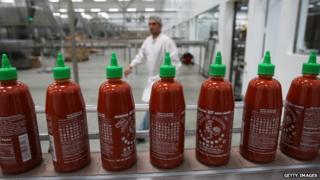 A California city has dropped a lawsuit it lodged against the maker of a popular Asian-style pepper sauce after residents complained of the odour from the manufacturing process.
The city of Irwindale also removed a public nuisance declaration against Sriracha maker Huy Fong Foods.
The moves on Wednesday effectively ended fears of a Sriracha shortage.
The factory in the small California city churns 100 million lb (45.4 million kg) of chili pepper a year.
Coughing and headaches
On Wednesday evening, the Irwindale City Council voted unanimously in a closed session, with one councillor abstaining.
It is not yet clear what prompted the council to alter its position, but Huy Fong Foods had asked for more time as it worked with air-quality experts to eradicate the offending smell.
The city of about 1,400 people first sued the sauce maker in October, asking a judge to halt production after residents complained that fumes from the processing stung their eyes and caused coughing fits and headaches.
In November a judge ordered the company to mitigate the odour but the annual pepper-grinding season - August to October - had already ended.
The factory was declared a public nuisance in April, and the Sriracha manufacturer was given 90 days to curb the odours.
Huy Fong Foods, employer to up to 200 workers, is said to have earned $85m (£50m) last year.