US skyscraper viewing deck 'cracks'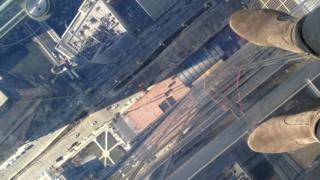 A part of Chicago's Willis Tower's glass observation ledge cracked while people were inside, 103 storeys up.
Alejandro Garibay, inside and 1,353ft (412m) above the ground at the time, told the local NBC broadcaster it was a "crazy feeling and experience".
A building spokesman said the damage was to the protective coating, possibly from a sharp item dropped on it, and there were no structural concerns.
"These are extremely sturdy and solid," said spokesman Bill Utter.
The "Ledge" is a series of four glass boxes that jut out from the 103rd floor of the building, formerly the Sears Tower.
There are three layers of glass forming the floor of the box, which is designed to hold a weight of five tonnes.
The protective coating completely covers all glass surfaces to protect against scratches, said Mr Utter.
"This coating does not affect the structural integrity of the Ledge in any way. Occasionally, the coating will crack, as it is designed to in order to protect the surface of the glass."
All four boxes are now undergoing inspection and the floor that cracked is being replaced, he added.