Democrats name five members to Benghazi panel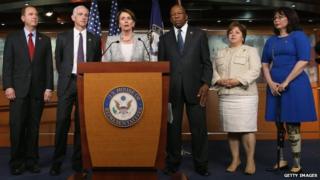 Democrats in the US Congress have named five representatives to a special panel on the Benghazi attacks despite arguing it is motivated by Republican politics.
House Minority Leader Nancy Pelosi said Democrats would serve on the panel "to fight for a fair hearing and process".
Republicans have argued the Democratic Obama administration misled the public on the nature of the attack.
A US ambassador and three others were killed after an assault on the Libyan diplomatic post in September 2012.
Democrats have argued a series of previous panels and reports have already thoroughly documented the attack and its aftermath, and the Republican-led panel is a political ploy to raise campaign cash and motivate voters.
High-profile hearings
The panel, a select committee with the authorisation to operate until the end of the year, was approved on a largely party-line vote.
It will be chaired by Tea Party Republican Trey Gowdy, who has said Republicans should not fundraise based on the committee's work.
Ms Pelosi, the top Democrat in the House, said on Wednesday she hoped a Democratic presence would help the select committee operate "in a fair and open way".
"That simply would not be possible leaving it to the Republicans," she said.
The Democratic leader on the panel is Representative Elijah Cummings, the top member of the party on the oversight committee, where many Benghazi hearings have already taken place.
He will be joined by Representatives Adam Smith, Adam Schiff, Linda Sanchez and Tammy Duckworth.
The select committee's work will include high-profile public hearings in the months leading up to November's mid-term elections, in which all of the House and a third of the Senate will be up for re-election.
Among those likely to be called to testify is former Secretary of State Hillary Clinton, a potential 2016 presidential candidate.
Democrats in Congress have been divided over whether to participate. Representative Jim Clyburn still had reservations on Tuesday, saying: "If you're going to have a hanging, don't ask me to bring the noose."
The 11 September 2012 attack, in which gunmen stormed the US compound and set it on fire, has become a political lightning rod.
The Republicans have accused the Obama administration of covering up the involvement of militant groups in the days after the attack in order to protect President Barack Obama's 2012 re-election campaign.
The White House initially said the attack was sparked by protests about an anti-Islam video produced in the US.
Administration officials later found that it was an organised attack planned by local militias.
Previous independent, bipartisan and Republican-led inquiries have blamed the state department for inadequate security at the embassy. Four people have been demoted over the issue.