Obama vows action on any VA 'misconduct'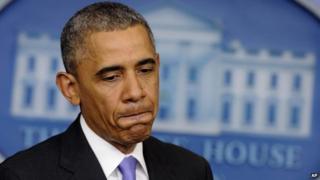 President Barack Obama has vowed to punish those responsible for "dishonourable" alleged misconduct at hospitals for US military veterans.
At the White House, Mr Obama acknowledged veterans had to wait too long to receive medical care.
But he offered support for Veterans Affairs (VA) Secretary Eric Shinseki.
It was Mr Obama's first public comment on recent reports that officials at an Arizona VA hospital covered up long waits for veterans seeking care.
"When I hear allegations of misconduct, any misconduct, whether it's allegations of VA staff covering up long wait times or cooking the books, I will not stand for it, not only as commander in chief but also as an American," Mr Obama said in a White House press conference on Wednesday.
The White House has come under growing pressure from veterans groups, congressional Republicans and the media after it was alleged that officials at a VA hospital in Phoenix, Arizona, maintained secret records to avoid reporting to Washington the true length of time veterans had to wait for appointments.
Last month, a retired doctor at that hospital told broadcaster CNN he believed as many as 40 veterans had died while waiting months to be seen.
'Swift reckoning'
The row has grown rapidly, and on Tuesday the VA inspector general's office said 26 veterans hospitals and facilities were being investigated.
But investigators have said they have not yet linked any patient deaths to the delays in care.
"I know that people are angry and want swift reckoning," Mr Obama said. "But we have to let the investigators do their job and get to the bottom of what happened.
"Once we know the facts, I assure you, if there is misconduct, it will be punished."
The US president said he expected a preliminary report from Mr Shinseki's own review in the next week and a fuller report next month from Rob Nabors, a senior White House aide he has deployed to handle the matter.
This month, the American Legion, a prominent veterans group, and the Army Times, an influential independent newspaper, called on Mr Shinseki to step down.
Asked whether he would ask Mr Shinseki, a decorated retired Army general who was wounded in Vietnam, to resign, Mr Obama said, "If he does not think he can do a good job of this... then I'm sure he is not going to be interested in continuing to serve."
'Too long'
At an appearance before a Senate panel last week Mr Shinseki said he was "mad as hell" over the allegations but was waiting for the inspector general's report before taking action.
"Whatever comes out of this, whatever is substantiated, we will take action," he told reporters after the hearing.
The senior official in charge of health issues at the VA resigned last week.
Meanwhile, the US House of Representatives was scheduled to vote on a bill on Wednesday that would grant Mr Shinseki more authority to sack senior executives at the agency.
The recent allegations come amid ongoing issues at the VA, including a lengthy backlog in disability claims and high veteran unemployment.
"Even if we had not heard reports out of this Phoenix facility or other facilities, we all know that it often takes too long for veterans to get the care that they need," Mr Obama said, adding that while his administration had made gains, more needed to be done.
"That's not a new development. It's been a problem for decades, and it's been compounded by more than a decade of war."