'Missing' Canadian dogs died of heatstroke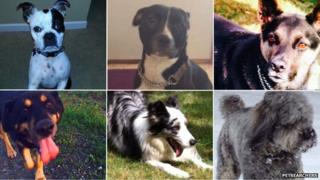 A Canadian dogwalker has admitted six dogs in her care died of heatstroke in the back of her vehicle after previously saying they had been stolen.
The Royal Canadian Mounted Police (RCMP) confirmed the dogs had died and they were investigating the case.
A pet recovery firm who helped look for the stolen dogs approached the dogwalker after a week of searching.
The firm's operator told the BBC the woman had "panicked" when she found the dogs and "made a very poor decision".
"We were hoping against hope some of the dogs would be safe," Alesha MacLellan of Petsearchers said, but added there were "lots of small things" that made them suspect the dogs had not been stolen.
The dogwalker, Emma Paulsen, had initially told police that she had left the dogs in the back of a lorry with a canopy over it, while she went to the toilet.
When she returned 10 minutes later, the canopy had been unlatched and the dogs were gone, she told officials.
But after a conversation with the pet search firm, she admitted that she had returned to find the dogs dead from the heat.
In a statement, the RCMP said Ms Paulsen had not been charged but investigations by both the police and the Society for the Prevention of Cruelty to Animals (SPCA) were still ongoing.