Abu Hamza: Home Secretary Theresa May hails guilty verdict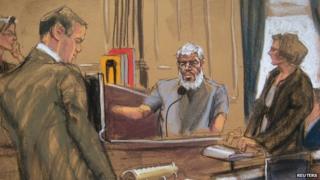 The UK home secretary has hailed the verdict of a New York court which found radical Muslim cleric Abu Hamza al-Masri guilty of supporting terrorism.
Theresa May said the conviction came after the government's successful bid to have him extradited from the UK, where he rose to prominence for his fiery sermons at a north London mosque.
Abu Hamza, who is due to be sentenced on 9 September, could face a life term.
The court heard he aided the kidnappers of 16 tourists in Yemen in 1998.
The 56-year-old was also accused of attempting to build a terror training camp in Oregon in the north-western US.
He showed little emotion in court as the verdict was read out, only answering "yes" when his lawyer asked if he was OK.
He was extradited from the UK, where he preached at the Finsbury Park mosque, after having been jailed for seven years for inciting murder and racial hatred.
In New York the jury of eight men and four women reached a unanimous guilty verdict on all 11 terror charges.
Manhattan US Attorney Preet Bharara said: "The defendant stands convicted, not for what he said, but for what he did.
"Abu Hamza was not just a preacher of faith, but a trainer of terrorists.
"Once again our civilian system of justice has proven itself up to the task of trying an accused terrorist and arriving at a fair and just and swift result."
Reacting to the verdict, Mrs May said: "I am pleased that Abu Hamza has finally faced justice. He used every opportunity, over many years, to frustrate and delay the extradition process."
'Religious war'
Abu Hamza was arrested in May 2004 on a US arrest warrant.
The 11 charges against him included allegations that he arranged satellite communications for a group of kidnappers in Yemen who carried out a deadly attack in which four hostages were killed.
He was eventually also found guilty of conspiring in 1999-2000 to establish an al-Qaeda training camp in Bly, Oregon, among other acts.
He was convicted of various crimes including hostage taking, conspiring to provide material support to terrorists, and abetting religious war in Afghanistan.
Abu Hamza's defence team said he would appeal, claiming that too much weight had been given to comments he had made on unrelated matters.
His lawyer, Joshua Dratel, told BBC Radio 4's Today programme: "Our fear is that the introduction of a large volume of inflammatory rhetoric by Abu Hamza as opposed to evidence by conduct by him seemed to overwhelm the deliberations."
Abu Hamza in numbers
Jailed in UK for 7 years

Extradited to US in 2012

Found guilty by US court of 11 terror charges in 2014
Getty Images