'Occupy' protestor Cecily McMillan sentenced to 90 days in jail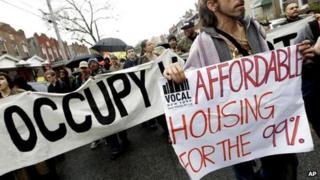 A New York woman convicted of assaulting a police officer during a 2012 Occupy Wall Street protest has been sentenced to 90 days in jail.
Cecily McMillan, 25, faced up to seven years in prison on the charge.
Her trial became a rallying point for activists. The court room was packed with supporters on Monday as a judge announced the sentence.
In court, she apologised for injuring the officer but maintained she was innocent.
"I can say with certainly that I am innocent of the crime I was convicted of," she said on Monday. "I cannot confess to a crime I did not commit... in hopes that you will return to me my freedom."
McMillan was charged with deliberately elbowing Officer Grantley Bovell in the eye during a police action on 17 March 2012.
A jury rejected her defence that she instinctively struck out at someone she believed had groped her breast.
But nine of the 12 jurors sent a letter to the judge after the conviction asking him not to sentence her to jail or prison and to consider probation instead, US media reported.
Judge Ronald Zweibel did not agree to probation.
"A civil society must not allow an assault to be committed under the guise of civil disobedience... Ms McMillan must take responsibility for her conduct," he said in court on Monday, but added a "lengthy sentence would not serve the interests of justice in this case".
More than 78% of 2,600 cases stemming out of the "Occupy" protests against economic inequality and the concentration of corporate power were dismissed by Manhattan prosecutors on the condition the defendants stay out of trouble for six months, the Associated Press reported.