Clippers Sterling 'will not pay' NBA fine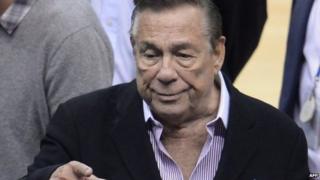 Los Angeles Clippers owner Donald Sterling has said he will refuse to pay a $2.5m (£1.5m) fine from the league for racist comments, US media report.
"We reject your demand for payment," his lawyer said in a letter to the National Basketball Association (NBA), Sports Illustrated magazine reports.
Mr Sterling is also reportedly threatening to sue the league.
He was banned from the National Basketball Association for life after he was recorded making racist remarks.
Mr Sterling was heard asking a woman not to associate in public with black people nor bring them to games.
On announcing the ban and fine, NBA commissioner Adam Silver said Mr Sterling's "hateful opinions... simply have no place in the NBA".
In the letter, Maxwell Blecher also wrote that no punishment was warranted for Mr Sterling's actions and that his rights for a fair investigation had been violated, according to the USA Today newspaper.
The NBA recently appointed Dick Parsons, a businessman and lawyer, as new Clippers interim president while the league attempts to force a sale of the team.
Amid the upheaval, the team was eliminated from the league play-offs on Thursday.
Coach Doc Rivers told reporters after the game "the locker room was not good in a sad way. It felt like all the stuff they have gone through came out and they released all their emotions".
Mr Rivers himself was fined $25,000 for shouting at a game official during an earlier game.
"I know I am tired," Mr Rivers said, adding he expected to return to the Clippers next season.
"I am going to go somewhere and lose some weight. I gained 40 pounds in this thing. I just felt like I had to try and protect our guys."