Charity Johnson 'posed as Texas teenage student'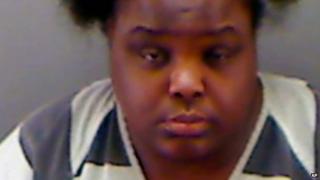 A woman in her early thirties posed as a teenager and attended a high school before the ruse was discovered, police in Texas have said.
Charity Johnson enrolled at New Life Christian School in Longview in October, claiming she was 15.
Ms Johnson was arrested on Tuesday when police were called to an apartment at which she was staying and she gave them a false name and birth date.
It is as yet unclear why the woman posed as a youth for several months.
'An attentive student'
Authorities were called to the home of a person who said she no longer wanted Ms Johnson living with her.
Ms Johnson was issued a trespass warning, and told officers her name was Charite Stevens and she was born in November 1997.
During their investigation, officers determined that identify to be false.
Jail records indicate Ms Johnson is 31, but police later told US media the woman is instead 34.
The principal at New Life Christian School told the Associated Press news agency Ms Johnson filled out her enrolment paperwork with a guardian in October.
"She acted like a 15, 16-year-old. She was an attentive student, respectful, did her homework," Stuart Newlin said.
"The why? Nobody seems to know why."