Aaron Hernandez: Ex-NFL star accused of two more killings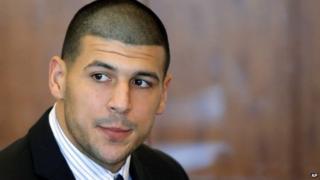 Former professional American football player Aaron Hernandez has been charged with a 2012 double murder, while still facing a previous murder charge.
Prosecutors say Mr Hernandez drove up alongside the vehicle of two men with whom he had a "chance encounter" at a club earlier and shot and killed them.
Mr Hernandez was arrested last June for allegedly killing Odin Lloyd, a semi-pro player found near his home.
His lawyers did not have any immediate comment on the new charges.
But last August, lawyer Michael Fee, speaking about the Lloyd murder charges, had said there had been "an incredible rush to judgment in this case".
'Ambushed and executed'
On Thursday, Suffolk District Attorney Daniel Conley said Daniel de Abreu and Safiro Furtado, the victims in the 2012 shootings, were "ambushed and executed" as they were driving in Boston, Massachusetts on 16 July 2012.
Mr Conley says they and Mr Hernandez had had an "encounter" at a nightclub earlier in the evening and the former National Football League player was the gunman.
Those details mirror the alleged motive in Lloyd's death. According to authorities, Mr Hernandez and two friends picked up Lloyd at home in the early hours of 17 June 2013.
Mr Hernandez allegedly told Lloyd he was upset about an incident at a nightclub days before.
Boston Police Commissioner William Evans said that Abreu and Furtado, both Cape Verdean nationals, were "two young, innocent victims", according to the Boston Globe.
A former tight end for the Boston-based New England Patriots, Mr Hernandez was dropped from the Patriots - and his $40m (£24m) contract - shortly after his arrest in June.