Breaking Bad spin-off to film in New Mexico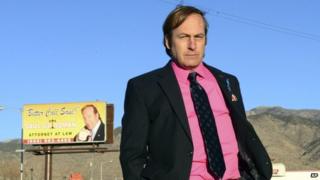 A spin-off of hit US television programme Breaking Bad will be filmed in Albuquerque, New Mexico, where the shows are set, officials have said.
Better Call Saul will star Bob Odenkirk as lawyer Saul Goodman, a main character on the original show which ran for five series on the AMC network.
Between 75-90 locals will work on the production, the state film office said.
Officials credited Breaking Bad with drawing throngs of fans to Albuquerque to see sites featured on the programme.
"We welcome this incredible production team back to the state," Nick Maniatis, director of the New Mexico's film office, wrote in a statement.
"They have proven to be excellent partners with the city of Albuquerque and the state of New Mexico."
Albuquerque Mayor Richard Berry also wrote he was "thrilled" to learn of the production plans.
The new show will follow Odenkirk's character as he defends drug lords and petty criminals.
Breaking Bad told the story of a high school chemistry teacher played by Bryan Cranston who produced methamphetamine with a former student and became a fearsome drug kingpin.