Clay Aiken opponent Keith Crisco dies in fall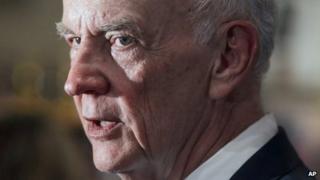 A man vying against one-time American Idol star Clay Aiken for the Democratic nomination for a seat in the US Congress has died suddenly.
Keith Crisco, 71, was preparing to concede the party primary election to Mr Aiken when he fell at his home in North Carolina, local media reported.
Mr Aiken led by fewer than 400 votes out of nearly 28,500 cast on 6 May.
The death leaves Mr Aiken likely to face Republican Congresswoman Renee Ellmers in November's general election.
Mr Crisco was a businessman and former state commerce secretary.
"He was a remarkable man with a tremendous dedication to his family and to public service," his family said in a statement.
Mr Aiken, a North Carolina native, rose to fame in 2003 as the runner-up on television programme American Idol, which pitted aspiring singing stars against one another for the audience's favour.
"I am stunned and deeply saddened by Keith Crisco's death," he said in a statement posted on his campaign website.
"Keith came from humble beginnings. No matter how high he rose - to Harvard, to the White House and to the governor's cabinet - he never forgot where he came from."
Ms Ellmers was elected to North Carolina's 2nd House of Representatives district in the Republican wave of 2010, with 49% of the vote.
In 2012, the district was redrawn to give the Republican Party an advantage and she was re-elected with 56% of the vote.