Clippers owner Donald Sterling admits 'terrible mistake'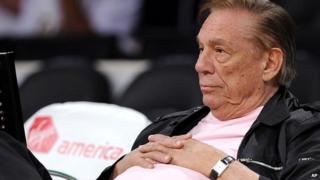 Los Angeles Clippers owner Donald Sterling apologised on Sunday for making racist remarks, saying they were a "terrible mistake."
In his first comments since being banned from basketball for life, he said he was "emotionally distraught."
"I'm not a racist. I made a terrible mistake," Mr Sterling told CNN. "I'm here to apologise."
Mr Sterling was recorded asking a woman not to associate in public with black people nor bring them to games.
But he said he was "baited" into making the remarks.
"When I listen to that tape, I don't even know how I can say words like that," he said. "I don't know why the girl had me say those things."
The National Basketball Association (NBA) has started the process to remove him as owner of the LA team.
Mr Sterling, 81, said he wanted to remain the Clippers' boss and believes that years of good behaviour as an owner should help his case.
"I'm a good member who made a mistake," he said. "Am I entitled to one mistake, am I after 35 years? Am I entitled to one mistake? It's a terrible mistake, and I'll never do it again."
NBA Commissioner Adam Silver banned Mr Sterling from the sport and fined him $2.5 million (£1.5m) last month.
The NBA is also hoping to force Mr Sterling to sell the team, which would require 75% of NBA owners to vote in favour of the move.
Mr Silver believes the NBA will get the votes it needs but lawyers say the Clippers' owner could oppose the sale in the courts.
"If the owners feel I have another chance, then they'll give it to me," Mr Sterling said.
The disgraced owner's comments came as ABC News posted excerpts of an interview with his estranged wife Shelly Sterling.
Mrs Sterling, who holds a 50% stake in the team, said she would fight to keep hold of her share.
"I will fight that decision," she said. "I'm wondering if a wife of one of the owners did something like that, said those racial slurs, would they oust the husband?"
"I don't know why I should be punished for what his actions were," Mrs Sterling added.
But the NBA said its constitution meant that if a controlling owner is removed, then the role of other owners is automatically terminated.
US basketball star LeBron James said NBA players believe no-one from the Sterling family should be able to own the Clippers.
"As players, we want what's right and we don't feel like no one in his family should be able to own the team," Mr James said.