US Democrats divided on Benghazi panel boycott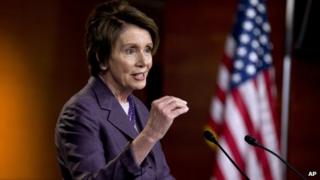 US House of Representatives Democrats are considering whether to participate in a Republican-led investigation into the deadly attack on the US consulate in Benghazi, Libya, in 2012.
Democrats may boycott the panel, send just one member or the allotted five.
Republicans have argued the Democratic Obama administration misled the public on the nature of the attack.
House Minority Leader Nancy Pelosi called the panel a "political stunt".
Four Americans including US Ambassador Chris Stevens were killed.
'Kangaroo court'
"We've been there, done that. Why are we doing this again?", Ms Pelosi told reporters on Friday, referencing seven previous inquiries on the matter.
The House minority leader said her party is currently weighing whether it will abstain from the panel, send a single representative or fill the five seats allotted to Democrats.
Staff were also negotiating more equal terms of Democrats, including a potential ban on the committing hearing testimony unless at least one Democrat was in attendance, she added.
Democrats were said to have been rebuffed on a request for an equal split in panel membership, and are looking to ensure they will have equal access to documents and the ability to question witnesses.
"We think that this whole Benghazi hearing is a waste of taxpayer dollars," Democratic Congressman Chris Van Hollen told the Associated Press news agency, indicating a boycott was a possibility.
"But if at the very least they're going to establish a fair process then we could participate, but if it's going to be a kangaroo court, we can't," he added.
Colleague Congressman Henry Waxman advocated in favour of Democratic participation, however.
"I think the Democrats ought to be there every day, recording why it's a sham," he said.
Democrats have said the inquiry is a political ploy to raise campaign cash and motivate voters.
Meanwhile, it has been announced the investigative panel - approved by a largely party-line, 232-186, vote on Thursday - will be chaired by Tea Party Republican Trey Gowdy.
The panel is thus far comprised of Republican members Susan Brooks, Jim Jordan, Mike Pompeo, Martha Roby, Peter Roskam and Lynn Westmoreland.
The 11 September 2012 attack, in which gunmen stormed the US compound and set it on fire, has become a political lightning rod.
The Republicans have accused the Obama administration of covering up the involvement of militant groups in the days after the attack in order to protect President Barack Obama's 2012 re-election campaign.
The White House initially said the attack was sparked by protests about an anti-Islam video produced in the US.
Administration officials later found that it was an organised attack planned by local militias, although the New York Times claimed after an extensive investigation that some of the attackers were motivated by the film.
Previous independent, bipartisan and Republican-led inquiries have blamed the state department for inadequate security at the embassy.
Republicans have been very critical of then-Secretary of State Hillary Clinton, who is now weighing a 2016 presidential run.
Democrats, meanwhile, have argued that the panel will be too partisan in nature and have accused conservatives of using it to energise Republican voters prior to midterm elections in November.