LA Clippers president to step down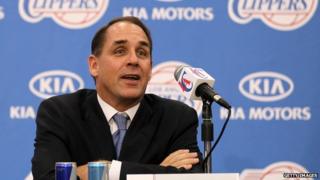 The president of the Los Angeles Clippers basketball team has taken an indefinite leave of absence as the league prepares to force a sale.
A spokesman for the National Basketball Association (NBA) said Andy Roeser's departure would allow the team's new executive to "begin on a clean slate".
Clippers owner Donald Sterling was banned from the sport for life after he was recorded making racist remarks.
The NBA advisory panel has agreed to begin the process of selling the team.
Mr Roeser has been employed by the Clippers for 30 years, working entirely under Mr Sterling's ownership.
As Mr Sterling's comments became public, Mr Roeser released a statement questioning whether the recordings were legitimate while at the same time apologising for comments in the recording about NBA legend Magic Johnson.
Clippers coach Doc Rivers said the statement upset many loyal Clippers employees who had been horrified by Mr Sterling's comments.
Legal battle
The NBA previously announced it would appoint a new chief executive to supervise the daily running of the team while the NBA draws up plans to sell the franchise, but it has not named that person.
A forced sale of the LA Clippers would require the approval of three-quarters of the 30 team owners in the NBA.
But Mr Sterling could oppose the sale in the courts, according to sports lawyers.
A number of celebrities have expressed interest in purchasing the sports team.