Republicans vie in critical North Carolina primary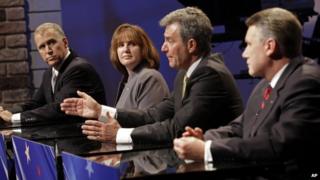 Republicans in the US state of North Carolina are heading to the polls to choose a candidate to face Democratic incumbent Senator Kay Hagan in the upcoming midterm elections.
The race pits House Speaker Thom Tillis against Baptist pastor Mark Harris and tea party favourite Greg Brannon.
The party establishment backs Mr Tillis, while the other two are vying for the insurgent vote, analysts say.
Republicans aim to wrestle Senate control from the Democrats in November.
'Dragon slayer'
The high-profile race has drawn the attention of some of the nation's leading Republican figures.
The party's 2012 presidential candidate, Mitt Romney, has endorsed Mr Tillis, while Senator Rand Paul, a key figure in the right-wing populist tea party movement, has lent his endorsement to Mr Brannon.
Recent polling has suggested Mr Tillis is in the lead, and he aims to avoid a runoff in July by securing more than 40% of the vote on Tuesday.
Mr Paul, meanwhile, has said Mr Bannon was a "dragon slayer... a true believer and we need true believers in Congress".
Five other candidates are also in the race.
The victor of the Republican primary is expected to face Ms Hagan in the general election.
Ms Hagan was elected in the 2008 Democratic wave and is seen as vulnerable in her first bid for re-election.
Political activity in the state has been strong as conservatives fight to win the six seats required to gain control of the US Senate.
The primary is also viewed as a test of the Republican establishment's ability to exert its influence on the nomination process and keep more divisive tea party candidates off the ballot.
The Republican Party has seen popular tea party candidates win primaries in the past, only to flame out in subsequent general elections because their strident rhetoric turned off independent voters.
Republicans have sought to capitalise on Democratic US President Barack Obama's falling approval ratings and dissatisfaction with his signature healthcare overhaul law, mocked by its detractors as "Obamacare".
Primary elections are also scheduled in Indiana and Ohio on Tuesday.