Cecily McMillan found guilty of striking policeman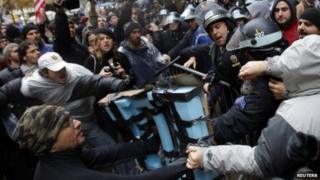 A New York woman has been convicted of assaulting a police officer during the 2012 Occupy Wall Street protests.
Cecily McMillan, 25, faces up to seven years in prison after a jury on Monday rejected her claim that she was groped.
McMillan said she was in Manhattan's Zuccotti Park on 17 March 2012 to meet a friend, not to join the protest.
The graduate student said she instinctively struck out at someone she believed had groped her breast, hitting Officer Grantley Bovell in the face.
'Disgusting'
"I remember the defendant crouching down and lunging with her elbow and hitting me in the face," Officer Bovell told the court.
Officer Bovell said he had instructed McMillan to leave the park, and after she refused, he placed a hand on her shoulder to lead her out.
McMillan said, "All of a sudden I feel somebody grab me from behind, from my right breast, and pull me backward."
A video of the incident showed McMillan elbowing Officer Bovell, then running a few steps before being tackled by other officers.
McMillan's supporters called the verdict on Monday a "disgusting" waste of taxpayer resources.
It "is indicative of a system concerned not with justice but with the unrelenting harassment of dissenters and the powerless", her supporters wrote in a statement.
McMillan was ordered held without bail pending her sentencing on 19 May.