First US Mers case doing better and 'may leave' hospital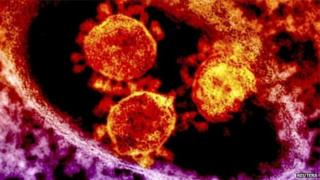 Health officials in the US state of Indiana have said the man with the first US case of Mers coronavirus may be released from hospital soon.
The unidentified patient, who has been in hospital since 28 April, could continue to be isolated at home.
Middle East respiratory syndrome (Mers), unusually lethal and found in camels, causes symptoms including fever, pneumonia and kidney failure.
Officials say so far no-one in contact with him has tested positive for Mers.
However, federal and state officials are still trying to contact about 100 people who may have been on an aeroplane or bus with the patient.
About three-quarters of the people on the flight had been contacted, according to Dr Daniel Feikin, an epidemiologist with the US Centers for Disease Control (CDC).
'Very vigilant'
"We are personally relieved and thankful that the patient who contracted this virus is improving and may well be going home soon," Indiana Representative Mike Pence said on Monday at a press conference.
"We will continue to keep the patient and all of those who may have come into contact in our prayers."
CDC officials said the man was a US citizen who was travelling to Indiana from Saudi Arabia, where he is a healthcare worker.
He fell ill about a week ago after arriving in the US. He flew back through London before landing in Chicago, then took a bus to Indiana.
Saudi Arabia says more than 100 people infected with Mers have died since an outbreak began in 2012.
Health officials say it is not highly contagious, only appearing to spread through close contact, but there is no known cure.
Mers belongs to the coronavirus family that includes the common cold and Sars, or severe acute respiratory syndrome, which caused some 800 deaths globally in 2003.
Dr Feikin said there are no known cases of Mers spreading through casual contact, but it was not surprising the virus had reached the US.
"We know that infectious diseases do not respect international boundaries," he said. "In this day and age of global travel and trade, infectious diseases can spread almost anywhere."
Hospital officials said healthcare workers and family who came in contact with the patient have been isolated.
No-one among these groups have tested positive for the virus, which has a 14-day incubation period.
"Fortunately to date all the tests of the close contacts have been negative," Dr Feilkin said.
"However, because Mers is a relatively new virus, and we're still learning much about it, we're being very vigilant to follow these contacts out to 14 days after their last exposure and continue to do testing on them."