US sends Air Force to rescue injured Chinese sailors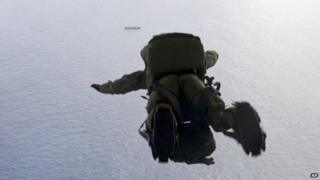 US rescuers have parachuted into the middle of the Pacific Ocean to provide medical aid to two badly burned Chinese sailors after their boat sank.
US Air Force personnel responded to a report of 11 sailors found in a raft on Friday and taken aboard a Venezuelan fishing boat.
Four were said to have suffered burns, and two later died from their injuries.
US aircraft were deployed to the ship to hoist the sailors on to helicopters and take them to a California hospital.
They were due to arrive at the burns unit of University of California, San Diego, on Monday night.
The Venezuelan boat reportedly sent out a request for help on Friday evening, which was received by the Air Force Rescue Coordination Center.
Airmen parachuted into the water near the vessel - located 1,100 nautical miles west of Cabo San Lucas, Mexico - on Saturday and employed inflatable boats to reach the ship to treat the sailors.
On Monday, multiple Air Force aircraft were deployed from Davis-Monthan Air Force Base in Arizona to transport the sailors from the Venezuelan vessel.
A refuelling tanker was also deployed to assist the aircraft in the estimated six-hour flight, much of which is over open ocean.
"They are on their way... to extract the two individuals," Captain Susan Harrington told the BBC.
Once the sailors are taken from the boat, they will be transported to California for burn treatment, she added.
It is as yet unclear what caused the vessel originally carrying the Chinese sailors to sink.
Six are currently believed to be missing. No details have been provided on where the uninjured sailors will be transported.