US Congressman Michael Grimm faces charges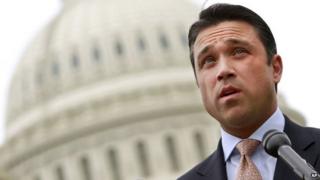 A US congressman is facing criminal charges related to his campaign finances, his lawyer has said.
New York Republican Michael Grimm, elected in 2010, has been under investigation by justice department officials for at least two years.
His lawyer, William McGinley, said the charges were part of a "politically driven vendetta" against his client.
In January, Mr Grimm apologised after threatening to throw a reporter off a balcony in the US Capitol.
The congressman said he would "break" a cable news journalist who brought up an investigation into his campaign funds.
Reflecting on the imminent charges, which were communicated to Mr Grimm on Friday in a phone call, his lawyer said: "When the dust settles, we will be vindicated."
The charges stem from Mr Grimm's first election to Congress, when he was part of a wave of conservatives backed by the Tea Party movement, which advocates small government and minimal taxes.
The New York congressman has acknowledged receiving hundreds of thousands in campaign donations from followers of an Israeli rabbi, Yoshiyahu Yosef Pinto.
Some members of Pinto's congregation have said they made tens of thousands of dollars in illegal contributions, including gifts passed through fake donors, but Mr Grimm has denied knowledge of any such wrongdoing.
In a case made public this month, the FBI has also accused a woman who had been romantically involved with Mr Grimm of funnelling at least $10,000 (£5,952) to his campaign through friends who agreed to have the donations listed under their names.
In US campaign finance law, individuals are only allowed to contribute up to $2,600 per election cycle directly to a single campaign.