US kidnapping plot 'targeted wrong person'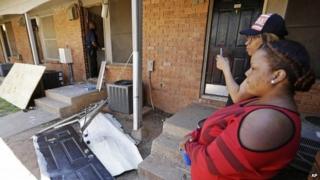 A North Carolina prosecutor was the original target of a kidnapping plot that ended with her father being held captive for five days, officials say.
Nine people have been charged in connection with the abduction of Frank Janssen, according to an indictment.
Officials say the kidnapping was retaliation for Colleen Janssen's prosecution of Kelvin Melton, a high-ranking member of the Bloods gang.
Melton is accused of organising the plot using a mobile from inside prison.
He is serving a life sentence for his involvement in a 2011 shooting. He was charged in connection with the kidnapping in addition to Quantavious Thompson, Jakym Tibbs, Tianna Maynard, Clifton Roberts, Jenna Martin, Jevante Price, Michael Gooden and Patricia Kramer.
Wrong address
In documents filed on Tuesday, prosecutors say Melton called Ms Maynard and Ms Kramer in March or April, allegedly saying he wanted them to assemble a team to "kidnap the ADA".
Colleen Janssen is one of the Assistant District Attorneys in the Wake County District Attorney's office.
The indictment alleges Ms Maynard searched the internet to find Ms Janssen's home address, but instead found her father's address.
Frank Janssen was kidnapped on 5 April. While he was held captive, his abductors called his wife and made demands, sending her photos of him tied to a chair along with threatening text messages.
Police have not said what specifically his abductors were demanding, other than the fact that it would have benefitted Melton.
Authorities have said in court documents they tracked the alleged kidnappers through their mobile phones. When corrections officers tried entering his cell, Melton smashed his phone, prosecutors say.
The FBI found Janssen alive in an Atlanta apartment, 400 miles (645km) away from his home, five days after he was first taken.