Canadian sailor dies in Tanzania in unknown circumstances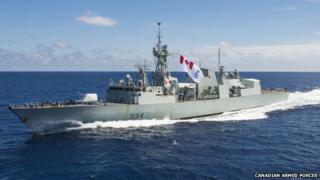 A sailor has died in Tanzania while en route to Canada for scheduled leave, the Canadian Armed Forces has said.
His ship, HMCS Regina, is sailing in the Indian Ocean and the circumstances of his death were still unknown, the Canadian military said in a statement.
Regina began sailing in the Arabian sea in February as part of a counter-terrorism and anti-piracy operation.
In late March, the crew seized 132kg (291lb) of heroin.
Another Canadian sailor died in January aboard HMCS Toronto, which was serving under the same mission.
Lt Andrew Webster, 33, died in unclear circumstances in the Seychelles. At the time, Canadian forces only said foul play was not suspected in his death.
The Canadian Military Police are investigating the latest death with local authorities in Dar Es Salaam. The deceased crewman was on his way to Canada for scheduled leave when he was taken to hospital in Tanzania, where he died. He had been based out of British Columbia.
The deceased crewman's family has asked him not to be identified.
The ship's commanding officer said in a statement he would be "dearly missed" by all aboard.
"I would like to express my heartfelt condolences to the friends and family of our crewman," Commander Daniel Charlebois said. "He was well-liked and respected by his peers."