Toronto Mayor Rob Ford launches re-election bid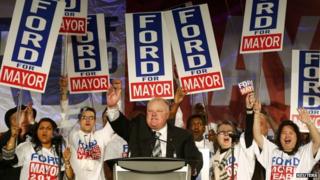 Toronto's embattled mayor kicked off his re-election campaign at an event his brother and campaign aide called "history in the making".
Rob Ford thanked his supporters at the Toronto Congress Centre on Thursday, the venue where he also celebrated his mayoral win in 2010.
Mr Ford has been stripped of many of his powers after admitting to using and purchasing drugs while mayor.
He faces two major challengers in the 27 October election.
Conduct code
"No matter what challenges lay ahead, no matter what mud is thrown at me, my message couldn't be clearer: I won't back down," Mr Ford said to cheering supporters.
"The people of Toronto deserve nothing less than accessibility, accountability and transparency," he added. "I know I'm the right person for the next four years to continue doing the right job at the right time."
Mr Ford was first elected in 2010 to lead Canada's largest city on a pledge to tackle wasteful spending at city hall. He draws much of his support from the suburban areas of Toronto.
He soon privatised rubbish collection across much of the city and did away with a vehicle tax, but quickly became bogged down in disputes with the council.
And over the past year, he has admitted smoking crack cocaine "in a drunken stupor" and to purchasing illegal drugs while mayor, while videos have emerged appearing to show him ranting obscenely in an intoxicated state.
Allegations have also surfaced in police documents that Mr Ford used racially abusive language, threatened staff, sexually propositioned a female colleague, and snorted cocaine in a restaurant.
He denies the allegations.
In the fallout from the drugs scandal, the city council stripped Mr Ford of most of his mayoral powers and his budget, rendering him effectively mayor in name only, analysts say.
But Mr Ford has brushed aside pressure to quit, saying voters will decide whether to keep him in office in the October election. He has said his "track record speaks for itself", and recent polls show him running in contention with his chief challengers.
The Toronto mayor faces serious challenges from centre-right candidate John Tory, a broadcaster and former member of the provincial parliament, and former New Democratic Party (NDP) MP Olivia Chow.
Mr Tory has released a "Code of Conduct" in which he vows to "respect and defend our laws, not break them", and to "show up for work each day", in a clear rebuke to Mr Ford's recent behaviour.
Meanwhile, on Thursday Ms Chow planned to canvass voters in one of Mr Ford's strongholds, Etobicoke. She has told the BBC that Mr Ford's "performance as a mayor is a failure".
Karen Stintz, a city councillor, and David Soknacki, a former councillor, are also running.