Kansas shooting: US will seek hate crime charges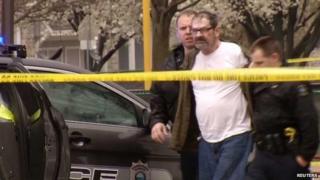 The FBI and local police say they will pursue hate crime charges against the suspect in Sunday's deadly shootings at Jewish community sites in Kansas.
Frazier Glenn Cross, 73, has been charged with murder in the deaths of three in a suburb of Kansas City.
Cross founded several white supremacist groups and later ran twice for elected office on a white power platform.
He appeared to shout "Heil Hitler" from the back of a police car as he was arrested.
Just before 13:00 local time on Sunday, a gunman shot and killed Dr William Lewis Corporan, 69, and his 14-year-old grandson Reat Griffin Underwood, in the car park of the Jewish Community Campus in Overland Park, Kansas.
Both victims were Christian.
Minutes later, Terri LaManno, 53, was shot dead at Village Shalom, a retirement home about 1.5 miles (2.4km) away from the community centre. LaManno, a Catholic, was visiting her mother when she was killed, police said.
Call for 'genocide'
Two officers stopped Cross in a school car park after he had left the retirement home, police said. He was armed but surrendered.
In a press conference on Monday, family members of the first two victims remembered a doting grandfather and a young man who loved singing, and had gone to the centre to audition for a singing contest.
"My dad would have given anything to have it just be him," Will Corporan, the victims' son and uncle said, adding the family took comfort in the fact it appeared neither had suffered.
"For us the tragedy is that they are not here," he said. "That idiot... knocked a family to its knees for no reason."
Earlier on Monday, US Attorney Barry Grissom said authorities were in "a very good place from an evidence standpoint" to consider hate crime charges.
Site, a US-based extremist-monitoring group, says Cross is a known and vocal anti-Semite who frequently calls for genocide against the Jews.
Cross first came to the attention of law enforcement after he founded the Carolina Knights of the Ku Klux Klan in the 1980s. Its members wore military fatigues and underwent military-style training.
He was the subject of a nationwide manhunt in 1987 after violating the terms of his bond for operating a paramilitary camp.
Cross disappeared while appealing the conviction and sent a list of potential assassination targets to his supporters, according to the Southern Poverty Law Center.
'Children of God'
He was found in 1987 by federal agents in Missouri with three other men in a mobile home filled with hand grenades, automatic weapons and thousands of rounds of ammunition, the Associated Press news agency reported.
Cross received a three-year prison sentence in exchange for testifying against other white supremacists.
He ran for the US House of Representatives in 2006 and the US Senate in 2010, receiving 23 and seven votes respectively. He lives about 180 miles (290km) south of the site of the shootings.
FBI Special Agent in Charge Michael Kaste said the FBI had been aware of Cross but had not recently kept track of him. Investigators say they have no evidence he was connected to anyone in the Kansas City area.
On Monday, just before the start of the Jewish festival of Passover, US President Barack Obama urged Americans to stand united against "religious-based" violence.
"We have to keep coming together, across faiths to combat the ignorance and the intolerance, including anti-Semitism that can lead to hate groups and violence because we are all children of God," Mr Obama said during a prayer breakfast celebrating the Christian holiday of Easter.
And Israeli Prime Minister Benjamin Netanyahu sent his condolences to the families of the victims.
"We are condemning the murder which according to all signs was committed because of hatred of Jews," Mr Netanyahu said in a statement. "The state of Israel... together with all civilised peoples is committed to fighting against this plague."