Aldon Smith held after 'airport bomb threat'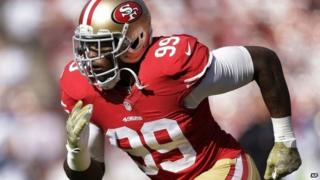 An American professional football player was arrested at Los Angeles International airport after making a bomb threat, officials have said.
San Francisco 49ers linebacker Aldon Smith, 24, made the threat after a dispute during a security screening on Sunday, police said.
The 49ers said they were "disappointed" but would not comment further.
Mr Smith took a five-game leave of absence from the team last season to attend treatment for substance abuse.
He rejoined the team on 5 November, saying he was on the path to lifelong sobriety.
On Sunday, Mr Smith was randomly selected for additional screening at the airport and "became belligerent and unco-operative", according to airport police Sgt Karla Ortiz.
Mr Smith told an airport security agent that he had a bomb before walking to the gate, she said.
When airport police officers caught up with him, Mr Smith was taken into custody.
A video of the arrest posted on gossip website TMZ.com shows Mr Smith arguing and swearing at airport police before being handcuffed.