IRS documents show President Barack Obama's income fell in 2013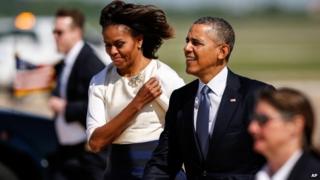 President Barack Obama's income declined in 2013 as sales of his books slowed, but he paid a higher tax rate, his tax documents show.
In 2013 the president made $481,098 (£287,000), down from $608,611 in 2012. He paid an effective tax rate of 20.4%, up from 18.4%, his tax returns show.
The tax rise was expected and came in part because of policies he pushed to limit tax preferences for the wealthy.
He and wife Michelle Obama reported charitable donations of $59,251.
Of the 32 different charities to which they contributed, the first couple's largest gift went to the Fisher House Foundation, which supports military families, for the second year in a row.
The president's earnings have declined significantly from 2009. That year, his first in office, he earned $5.5m, mostly from sales of his books Dreams from My Father and The Audacity of Hope. Mr Obama's salary as president is $400,000.
The president and first lady paid $98,169 in total federal taxes and $23,328 in taxes to their home state of Illinois in 2013.
The White House on Friday also released the tax returns of Vice-President Joe Biden and his wife Jill, who reported $407,009 of income and a tax rate of 23.7%.