Smart cars overturned in California crime spree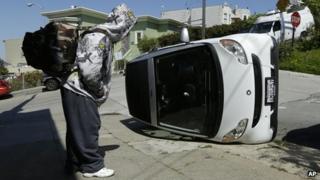 Authorities in San Francisco are investigating the vandalism of four diminutive Smart cars found turned over on their sides on Monday.
The four vehicles had body damage and broken windows, a police spokesman said.
Seven suspects wearing hooded sweatshirts were reported in the area.
Other instances of vandalism of the small cars have been reported in Canada and the Netherlands, where at least one vehicle was dumped into a canal.
California authorities are looking into whether the latest incidents on Monday morning were an act of vandalism or a campaign against the small vehicles, which weigh less than 2,000lbs (907kg), the San Francisco Chronicle reports.