US mudslide dead rises to 33 amid search for missing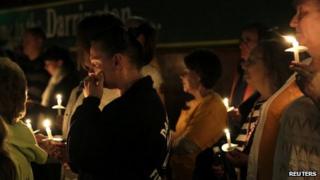 The number of dead in a mudslide that destroyed a town in the north-western US state of Washington has risen to 33, as the list of missing drops to 10.
The latest victim identified by authorities is Navy Chief Petty Officer Billy Spillers, 30, who died of blunt force injuries on 22 March.
Recovery efforts continue in the community of Oso, about 55 miles (90km) north of Seattle.
A berm has been built to prevent a river flooding the debris field.
Spillers' daughter Kaylee, five, and stepson Jovon Mangual, 13, had previously been identified as victims of the mudslide. His daughter Brooke, two, is still listed among the missing.
Nearly 900 searchers - including 350 National Guard soldiers - have converged on the area since the mudslide to aid in the recovery.
The mud and debris have constricted the flow of the Stillaguamish River, causing flooding upstream.
The Army Corps of Engineers has assisted in the construction of a temporary rock berm to reduce flooding in the area, assisting searchers in the ongoing effort.
Rain forecast for Tuesday is expected to cause the river to rise nearly a foot (30.5cm), but drier weather is predicted for later in the week.
The mudslide destroyed about 30 houses, leaving piles of downed trees, wrecked houses and twisted shells of vehicles.
Little sign of the community in Stillaguamish Valley is remains.