Convict posts Obama threat letter to wrong address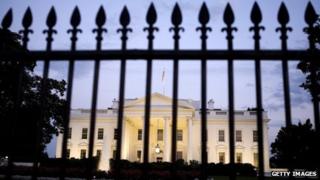 A US convicted child molester has been charged with sending a threatening letter to President Barack Obama, albeit posted to the wrong address.
Joseph Savage, 34, sent a "graphic letter" to the Obama family in October 2012, say prosecutors in Pittsburgh, Pennsylvania.
Savage, incarcerated at the time, allegedly threatened to torture and murder Mr Obama upon his release.
The letter did not reach the White House due to mislabelling.
It was sent to 1400 Pennsylvania Ave in Washington DC.
But America's most famous address is located farther up the road at 1600 Pennsylvania Ave.
Savage was to be arraigned in a Pennsylvania court on Monday afternoon.
If convicted, he faces up to 10 years in prison and a $500,000 (£303,000) fine.
Savage is already serving between 12-25 years in jail after being convicted of offences including the molestation of a nine-year-old girl and sending a threatening letter to the police officer who charged him.