US Gen Sinclair avoids jail in sex crimes case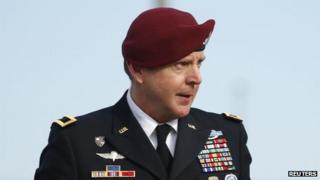 A US Army general who pleaded guilty to having inappropriate relationships with subordinates has avoided jail time.
Brig Gen Jeffrey Sinclair, 51, was fined $20,000 (£12,122).
Charges he raped an officer and threatened to kill her family were dropped amid questions about the accuser's credibility.
The US military has been under increasing pressure to curb what the Pentagon has called an epidemic of sexual misconduct within its ranks.
"The system worked. I've always been proud of my Army," Gen Sinclair said following his sentencing. "All I want to do now is go north and hug my kids and my wife."
'Failed' leader
The Army general, who announced his retirement from service on Thursday, will reportedly face a disciplinary board which could later reduce his pension.
He was also found to have had two other inappropriate relationships with subordinates.
On Monday, the former deputy commander of the elite 82nd Airborne division pleaded guilty to charges including abusing a government credit card while travelling to visit his mistress.
Earlier in the month, he pleaded guilty to adultery - a crime in the military - and admitted having an affair with a female captain.
"I failed her as a leader and as a mentor and caused her harm to her emotional state," Gen Sinclair reportedly told the court last week.
Prosecutors had alleged Gen Sinclair twice forced the female captain to perform oral sex and threatened her family with death if she ever told anyone about their affair.
But the prosecution's case fell apart after the defence raised questions about the accuser's credibility.
And Judge Col James Pohl said he had found evidence that senior military officers had improperly influenced the prosecutors' decision to reject a lenient plea deal earlier in the case.
It was not the only high-profile military trial to reach an outcome on Thursday.
A judge found a Naval Academy football player, Joshua Tate, not guilty in the alleged sexual assault of a female midshipman at an alcohol-fuelled, off-campus party in April 2012.