Rachel Canning reunited with family after suing them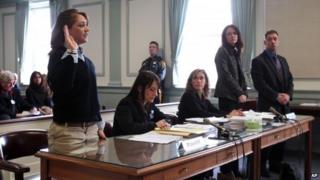 A US high school student who sued her parents for financial support has returned home, a lawyer says.
Rachel Canning's return is not contingent on any financial or other considerations, family lawyer Angelo Sarno said in a statement.
A New Jersey judge rejected Ms Canning's emergency request for child support last week, but another hearing in the case is scheduled for April.
Ms Canning, 18, previously said she had been thrown out of her parents' home.
She has been living with a friend since October.
The teenager sued her parents in a bid to make them pay the remainder of her private high school tuition, to be given access to her college fund and $650 (£390) in weekly child support.
She also alleged that her parents, Sean and Elizabeth Canning, were abusive.
They had contributed to an eating disorder and pushed her to get a basketball scholarship, Ms Canning said.
Her parents denied those claims, saying they had helped her through her problems and transferred her to a private school where she would not play basketball as often.
They said Ms Canning had left the home voluntarily after refusing to break up with a boyfriend they considered a bad influence.
She also would not follow basic house rules, such as keeping a curfew, they alleged.
On Wednesday, Mr Sarno said the lawsuit had been settled "amicably", but would not comment further.
He said the notoriety surrounding the case had hurt the family, and asked for privacy.