US general's sex crimes case thrown into doubt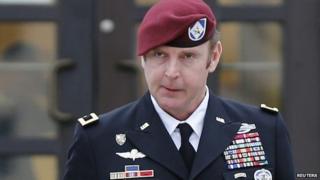 A US army judge has said the military may have improperly pushed for the sex crimes trial of a US army general.
Judge Col James Pohl did not dismiss the case, but has offered Brig Gen Jeffrey Sinclair's lawyers another opportunity for a plea deal.
Gen Sinclair, 51, is accused of sexually assaulting and threatening a female captain with whom he was having an affair.
He has admitted the affair but denied assaulting or threatening the woman.
The US military has come under heavy pressure amid what the Pentagon has called an epidemic of rape and other sex crimes.
On Monday, Col Pohl said he had found evidence, in newly-disclosed emails, of unlawful influence from senior military echelons in the decision to reject a plea deal before the trial.
Gen Sinclair's defence has argued the former deputy commander of the elite 82nd Airborne Division was the victim of overzealous prosecutors under political pressure.
His lawyers now have until Tuesday morning to decide whether to submit a plea bargain proposal to a different set of military officials, or let the court martial proceed.
"This is an unprecedented situation," lawyer Richard Scheff said. "It's a mess created by the government. It wasn't created by us. We have so many options, we don't even know what they all are."
Earlier, Gen Sinclair pleaded guilty to three lesser charges against him, including adultery, which is illegal in the military. He faces up to 15 years in prison on the guilty pleas.
Military prosecutors had no comment after Monday's hearing.
Gen Sinclair's accuser took the stand on Friday, alleging the Army general had threatened to kill her and her family if she ever told anyone of their three-year affair.
Prosecutors have alleged he twice ended arguments about their relationship by forcing her to perform oral sex on him.
The Pentagon has estimated that as many as 26,000 military members may have been sexually assaulted in 2012, based on an anonymous survey.
On Monday, the US Senate approved a bill changing how the US military justice system deals with sexual assault, including prohibiting the use of the "good soldier defence" to raise doubts that a crime has been committed and giving accusers a greater say in whether their cases are tried in a civilian or military court.
A more wide-reaching bill on the issue was rejected by the Senate last week.