Quebec campaigning begins as parties vie for majority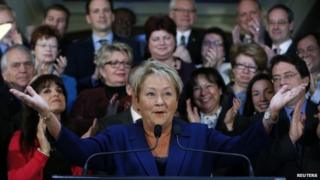 Campaigning has begun in Quebec after Premier Pauline Marois dissolved the provincial legislature and called an election in an effort to win a majority for her Parti Quebecois.
The 7 April election comes as Ms Marois says the opposition has blocked key parts of PQ's agenda, including a charter of Quebec values.
The PQ has led a minority government since the 4 September 2012 election.
The Liberal Party led by Philippe Couillard also seeks a majority.
Running candidates, too, is the Coalition Avenir Quebec (CAQ), the third-largest party in the just-dissolved 40th Quebec Legislature.
As she announced the new election on Wednesday, Ms Marois said Parti Quebecois had made great improvements to the province but was blocked from doing more by the opposition parties.
"The Liberals and the CAQ have only one goal, and that's to block," Ms Marois said, adding that included a recent budget plan.
"I'm asking you to give us the means to act. We have a plan and the team to make our plan succeed."
The campaign began immediately, with party leaders holding rallies on Wednesday evening.
Mr Couillard said it was "urgent" to change Quebec's "toxic government" and criticised Ms Marois' handling of the economy.
"Quebecers deserve better than the PQ when it comes to the economy," he said, according to the Montreal Gazette.
And Francois Legault of the CAQ said the Parti Quebecois was using the election for a sole purpose, Canadian broadcaster CBC reported.
"If anyone doubts why Marois is launching an election, she's been working to create an election that will focus on one issue, her famous charter of values," he said.
The Parti Quebecois says the proposed Charter of Quebec Values, as the law is named, promotes state neutrality on religion, including among those who work in the public sector.
It would ban public workers from wearing religious headwear, including Muslim scarves and Jewish skullcaps.
Its critics say it imposes on religious freedom and the federal government in Ottawa has suggested it could challenge the law in court.
Ms Marois has also promised to advance a referendum on Quebec independence if she feels there is sufficient support.