Senate Democrats block Obama nominee Debo Adegbile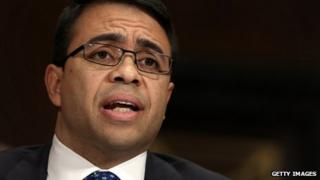 The US Senate has blocked President Barack Obama's nominee to a top justice department position over objections to his legal work on behalf of a man convicted of killing a police officer.
Mr Obama had picked Debo Adegbile, 47, to lead the department's civil rights division.
As a lawyer with a prominent US civil rights group, Mr Adegbile wrote legal briefs on behalf of Mumia Abu-Jamal.
Abu-Jamal has maintained his innocence in the 1981 murder in Philadelphia.
On Wednesday, seven Senate Democrats joined all Republicans in the vote to block Mr Adegbile's nomination.
'Travesty'
The final tally was 47-52. Senate Democratic Majority Leader Harry Reid also later switched his vote in a procedural move that allowed him to bring the nomination up for consideration again.
Mr Obama condemned the rejection as a "travesty based on wildly unfair character attacks against a good and qualified public servant".
"Mr Adegbile's qualifications are impeccable," the president, a Democrat, wrote in a statement.
"As a lawyer, Mr Adegbile has played by the rules. And now, Washington politics have used the rules against him."
Abu-Jamal, a former member of the Black Panther party, was convicted of the 1981 murder of Philadelphia Police Officer Daniel Faulkner and sentenced to death.
The case has been fraught with racial tension. Abu-Jamal has long maintained his innocence, and his cause has attracted many high-profile followers.
The "Free Mumia" campaign gained international support from opponents of the death penalty who saw his case as a clear example of corruption and wrongful conviction, while the movement's critics say his supporters are ignoring the evidence of guilt in the name of political correctness, says the BBC's Kate Dailey.
Abu-Jamal has become a flashpoint around issues of capital punishment and law and order, our correspondent says.
In 2006, Mr Adegbile was part of a team of lawyers with the National Association for the Advancement of Colored People (NAACP) who wrote briefs in federal court appeals on Abu-Jamal's behalf.
In the appeals, Abu-Jamal's lawyers argued he had not received a fair trial. The federal courts agreed and ordered a new sentencing hearing.
Subsequently, Abu-Jamal's sentence was reduced to life in prison.
The Fraternal Order of Police opposed Mr Adegbile's nomination, calling it a "thumb in the eye of law enforcement".
Senate Minority Leader Mitch McConnell, a Republican, said that while "everyone deserves a fair trial", Mr Adegbile used his former office to "turn reality on its head, impugn honorable and selfless law enforcement officers, and glorify an unrepentant cop-killer".