Toronto mayor Rob Ford appears on Jimmy Kimmel show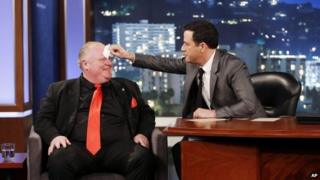 Toronto Mayor Rob Ford has told a US comedian he will no longer apologise for his past sensational behaviour.
On Jimmy Kimmel Live, he said he wanted a video purported to show him smoking crack cocaine to be made public.
On the show on ABC, Kimmel mocked Mr Ford, as the pair watched video clips of him ranting, apparently intoxicated.
Mr Ford, who has admitted to having used crack cocaine and purchasing illegal drugs while in office, is running for re-election in October.
He has faced repeated calls to step down and has been stripped of much of his power by the city council.
Among the behaviour that has brought Mr Ford widespread censure, he made an obscene outburst on live television while denying he had offered oral sex to a female staff member.
At the time he had been responding to allegations in court papers that he had driven drunk, used racially abusive language, threatened staff, and consorted with an alleged prostitute.
A 'good example'
Mr Ford's turn on the chat show on US broadcaster ABC came after months of bidding by Kimmel's staff.
On the broadcast on Monday night Kimmel read comments from Toronto residents berating him for playing host to the mayor, including one who said it was a "slap in the face to all Torontonians".
"Is that all I got?" Mr Ford replied.
Mr Ford and Mr Kimmel watched videos of the mayor that have become public, including a drunken, angry rant in which the mayor made threats to commit "first-degree murder" against an unknown person.
When asked who he was talking about in the video, Mr Ford shrugged.
"You have no idea?" Mr Kimmel said. "You have that many enemies that you don't know which one this was?"
Mr Ford said he had already apologised and was done with public displays of contrition.
"I've moved on," he said, adding Toronto residents would judge him on his record.
Towards the end of the interview, Mr Kimmel suggested Mr Ford should consider seeking help for addiction, saying it was "nothing to be ashamed of" and might be "a good example" for others in his situation.
Mr Ford dismissed the suggestion, saying he "wasn't elected to be perfect".
On Tuesday back in Toronto, the mayor and his brother, Toronto Councillor Doug Ford, said they thought the appearance had gone well.
"That was a walk in the park compared to you guys," Mr Ford told reporters.