Fast-falling snow storm hits US East Coast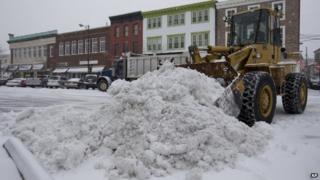 A heavy snowstorm has once again created travel havoc on the US East Coast with as much as a foot (30cm) expected to fall in some areas.
Schools were closed across the region, and Washington DC offices of the federal government were shut.
And more than 2,600 flights were cancelled, mostly in New York and Washington DC.
It is the fifth winter snowstorm to hit the eastern US since the beginning of 2014.
"We're tired of it. We're sick of it," Martin Peace, who lives in the Washington DC suburb of Arlington, Virginia, told the Associated Press news agency.
Fast-falling snow clogged up motorways and local roads in the US mid-Atlantic region during the morning and early afternoon on Monday. It had already brought a mix of freezing rain and snow to the Mid-Western states.
About 30,000 homes and businesses in Memphis, Tennessee, were without power after heavy sleet covered the area.
The storm will be followed by near-record low temperatures on Tuesday.
As much as 8in of snow was expected in Washington and Baltimore and six inches in Philadelphia by the end of Monday.
Parts of New Jersey and West Virginia could see a foot of snow.
The storm and frigid temperatures have already been blamed for several deaths, including a 13-year-old girl who died when a vehicle overturned on a slick Missouri motorway on Sunday, state police said.
Freeze warnings were in place from the Canadian border to Texas.
Much of Washington DC took a holiday on Monday after the federal government told workers in local offices to stay home.
A group of residents took advantage to stage a mass snow-ball fight on the National Mall, a long park fronting the White House and the Capitol building.
The Washington DC area also saw the worst concentration of flight cancellations on Monday - 80% of flights at Washington's Reagan National were called off.