US Attorney General Eric Holder admitted to hospital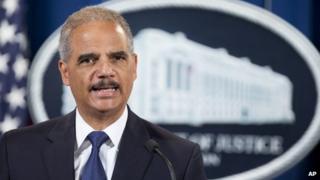 The top US law enforcement official has been released from hospital after being briefly admitted experiencing faintness and shortness of breath at work.
A spokeswoman for Attorney General Eric Holder said he is now resting "in good condition" at home after being discharged from a Washington hospital.
Mr Holder, 63, began feelings the symptoms during a Thursday morning meeting with senior staff.
The White House says President Obama wishes Mr Holder a "speedy recovery".
The attorney general represents the US in legal matters and gives advice and opinions to the president and government heads.
He also oversees the work of US district attorneys throughout America.