Eric Holder speaks out on same-sex marriage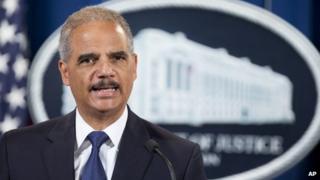 The top law enforcement official in the US has said state attorneys general are not obligated to defend discriminatory laws banning same-sex marriage.
US Attorney General Eric Holder said the issue was one of "the defining civil rights challenges of our time", likening it to racial desegregation.
He was responding to critics who demand state-level attorneys general have a duty to defend such laws.
Mr Holder said such decisions should be based on law, not politics.
"If I were attorney general in Kansas in 1953, I would not have defended a Kansas statute that put in place separate-but-equal facilities," Mr Holder told the New York Times.
Evolving stance
Mr Holder's comments drew criticism from some state officials.
"It really isn't his job to give us advice on defending our constitutions any more than it's our role to give him advice on how to do his job," Wisconsin Attorney General JB Van Hollen told the New York Times.
Same-sex couples and supporters have recently pursued a series of legal challenges on bans in state and federal courts.
Six Democratic state attorneys general have reportedly refused to defend such bans on same-sex marriage, drawing ire from conservatives who say they are obligated to uphold such state laws.
Mr Holder said it was "appropriate" for state attorneys general to base decisions on whether to defend such statutes on guarantees under the constitution, as opposed to questions of politics.
His comments are the latest evolving stance from US President Barack Obama's administration on the issue of gay rights.
Initially opposed to same-sex marriage when he took office, Mr Obama later reversed course and suspended the ban on gays and lesbians serving openly in the US military.