Drugs found on 'Captain Phillips' ship after two deaths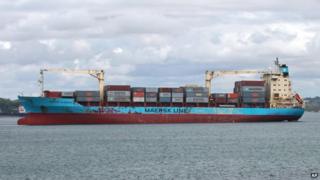 Drugs were found in the cabin where two US security workers were discovered dead on a ship made famous in the movie Captain Phillips, says a shipping firm.
Jeffrey Reynolds, 44, and Mark Kennedy, 43, were found on the Maersk Alabama in the Seychelles on Tuesday.
Their post-mortem examination results have not yet been released.
Both men were employed by Trident Group on the ship, which was hijacked by pirates in 2009, later dramatised in last year's movie starring Tom Hanks.
"We are saddened by the tragedy and our thoughts are with the family and friends of the deceased men," Maersk Line Limited spokesman Kevin Speers wrote in a statement.
'No physical trauma'
A Seychelles police report indicated the presence of drugs and paraphernalia in the room where the men were located, Mr Speers added.
"No evidence of physical trauma" was apparent, Seychelles police spokesman Jean Touissant told US media.
Mr Kennedy was formerly a Navy Seal, according to a service record released to the Associated Press news agency.
Mr Reynolds had also reportedly served in a special warfare unit.
Their bodies were found by a member of the 24-person crew while the ship was berthed in Port Victoria in the Indian Ocean.
The US Coast Guard has opened an investigation as the Maersk Alabama is an American-flagged ship.