Two sentenced in San Francisco Giants fan beating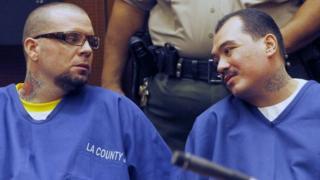 Two Los Angeles Dodgers fans have been sentenced for the beating of a San Francisco Giants fan, which left the victim permanently disabled.
Louie Sanchez, 31, and Marvin Norwood, 33, received eight and four years respectively for the March 2011 attack outside the Dodger Stadium.
Father-of-two and former paramedic Bryan Stow, 45, was left brain damaged and in need of round-the-clock care.
The incident drew national attention to fan violence at US sporting events.
'Biggest nightmare'
Sanchez admitted to kicking and punching Mr Stow, while Norwood pleaded guilty to assault likely to produce great bodily injury.
Both men had their sentences discounted for time already served.
"You are the biggest nightmare for people who attend public events," Judge George Lomeli told the attackers during their sentencing in Los Angeles on Thursday.
Mr Stow's sister, Bonnie, told the pair of his difficulties since he was beaten in a Los Angeles car park after the opening day game three years ago between the Dodgers and the Giants.
"We shower him, we dress him, we fix his meals," she said. "He takes two different anti-seizure medications to prevent the seizures he endured for months after you brutally and cowardly attacked him."
Witnesses reported seeing Mr Stow assaulted from behind and his head strike the ground.
While down, Sanchez kicked Mr Stow in the head multiple times.
A civil suit brought by Mr Stow against the Dodgers and its former owner is still pending.
The sports team issued a statement following the sentencing, saying it was "pleased that the culpable parties have finally accepted responsibility for their actions".
Sanchez and Norwood still face federal weapons possession charges that could result in up to 10 additional years in prison.