Guantanamo prisoner al-Darbi admits MV Limburg attack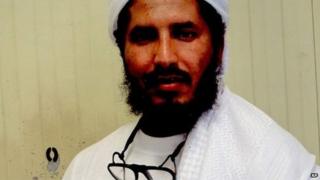 A Saudi man held at the US military prison at Guantanamo Bay has pleaded guilty to his role in an attack on an oil tanker in the waters off Yemen.
Ahmed al-Darbi, 39, pleaded guilty to five charges related to the 2002 bombing of the MV Limburg, which killed one crewmember and injured 12.
Prosecutors said al-Darbi had helped plan the bombing, including buying the boats involved in the attack.
But at the time of the attack he was already in US custody.
"Mr al-Darbi was not present... did not actually physically take part in the attack, but he is guilty" under US law for aiding and abetting those who did, the presiding judge, Air Force Col Mark Allred, said.
Al-Darbi's case was heard in a military commission convened at the US facility in Guantanamo Bay, a US naval installation on the island of Cuba.
Testimony expected
On Thursday, Col Allred questioned the Saudi man on each charge, saying through an interpreter that he could not accept the guilty pleas unless he was sure al-Darbi completely understood them.
"Do you understand that you are legally responsible for these actions?" the judge asked, according to the Associated Press, which was allowed to monitor the court proceedings through a CCTV link in Fort Meade, Maryland.
"Yes," al-Darbi answered. He pleaded guilty to five charges, including attacking civilians and "civilian objects", "hazarding a vessel", and terrorism.
Born about 1975 in Saudi Arabia, al-Darbi joined the Saudi military in 1992, then trained with Islamic militants in Bosnia, and in 1996 began training at an al-Qaeda camp after receiving permission from Osama Bin Laden in Afghanistan, according to court documents.
In early 2000, he began planning the Yemen attack, buying boats, GPS equipment and a hydraulic crane, prosecutors said.
On Thursday, al-Darbi admitted to buying the boat that was later laden with explosives and detonated alongside the MV Limburg, as well as to obtaining visas for the Yemeni attack operatives and helping to train them.
In June 2002, he was arrested in Azerbaijan on a charge of possessing counterfeit currency.
Agreement not to sue
Al-Darbi was then transferred to American custody and was reportedly taken blindfolded to the US base in Bagram, Afghanistan, where, he later said, he was tortured, including being subjected to waterboarding, according to the Associated Press.
In August 2002, he was taken to the US prison in Cuba.
Suicide bombers attacked the French-flagged MV Limburg on 6 October 2002.
Al-Darbi faces 13-15 years in prison commencing when the judge accepts the plea, according to the plea deal.
He requested to be transferred to Saudi Arabia after four years.
The judge said al-Darbi would not be sentenced for at least three-and-a-half years.
That timeframe is expected to allow him to testify against Abd al-Rahim al-Nashiri, who faces charges in the MV Limburg attack as well as for allegedly orchestrating the 2000 attack on the USS Cole in Aden, Yemen, which killed 17 US sailors and wounded 37.
Under the plea deal, al-Darbi has agreed to not sue the US over his capture and the conditions of his confinement.