Wisconsin National Guard coffin photo sparks outrage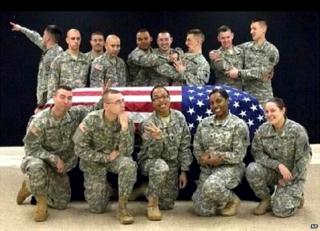 A US National Guardswoman has been disciplined after apparently posting a photo online of soldiers clowning about around a flag-draped coffin.
The Wisconsin National Guard suspended the member from honour duties, while saying it was taking steps to protect her after she received death threats.
The image's caption read: "We put the FUN in funeral - your fearless honor guard from various states."
The Wisconsin National Guard said the coffin was empty.
'Heartlessness'
It said in a statement that the image, posted on the photo-sharing website Instagram, was taken at a training facility in Arkansas.
The Instagram account has since been closed, the Wisconsin National Guard said.
Their Facebook page has been inundated with outraged comments.
One user, who identified herself as a military widow, said: "I am shocked at the disrespect and heartlessness shown by this group."