Original new wave band Devo guitarist Bob Casale dies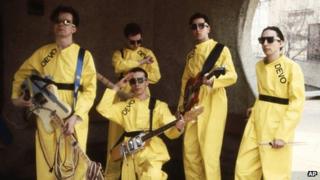 One of the original members of the US new wave band Devo has died, the group announced on Tuesday.
Guitarist Bob Casale passed away of heart failure, aged 61, according to his older brother and founding Devo member Gerald Casale.
The group were best known for their 1980 hit Whip It, from the Freedom of Choice album, which went platinum.
Another member of the Ohio-based group, drummer Alan Myers, died in 2013 from brain cancer.
Gerald Casale described Bob Casale's death as a "total shock" on the band's website.
"He was my level-headed brother," he wrote, "a solid performer and talented audio engineer, always giving more than he got."
The group released their debut album, Q: Are We Not Men? A: We Are Devo!, in 1978.