NSA Australia allies 'spied on US law firm' in Indonesia row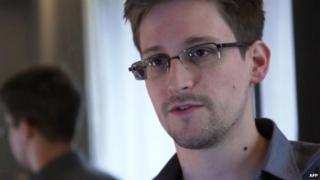 Australian spies tapped a US law firm representing Indonesia in a trade dispute with the US, new leaks say.
The 2013 document obtained by the New York Times does not identify the US law firm, but says the Australians offered the intercepts to their allies at the US National Security Agency (NSA).
Previous allegations of Australian spying on Indonesia has led to worsening ties.
The alleged documents have been leaked by ex-NSA contractor Edward Snowden.
Last month, Mr Snowden alleged that the NSA conducted industrial espionage.
In an interview with Germany's ARD TV channel, the former contractor said the agency would spy on big German companies that competed with US firms.
The February 2013 document says the Australian Signals Directorate monitored a US law firm used by the government of Indonesia for trade talks, according to the New York Times (NYT).
The Australians said that "information covered by attorney-client privilege may be included" in the intelligence they offered to share with the NSA, it says.
It is not clear which trade talks were involved.
Indonesia has recently been embroiled in a number of disputes with the US - one over the US ban of clove cigarettes, another centring on the exports of prawns which the US alleged were being sold at below-market prices.
Chicago-based firm Mayer Brown was identified by the newspaper as having advised the Indonesian government at the time. The firm has not commented, nor has the Indonesian government or the NSA.
Australian Prime Minister Tony Abbott refused to confirm the alleged document, adding that intelligence-gathering was used "to protect our citizens and the citizens of other countries".
"We certainly don't use it for commercial purposes," Mr Abbott said.
In November, Indonesia suspended co-ordinated military co-operation with Australia amid an ongoing row over reports that Canberra spied on Jakarta officials, including President Susilo Bambang Yudhoyono.
The suspension included operations to stop people-smuggling, joint military exercises and intelligence exchange.
The NSA is prohibited from targeting Americans inside the US without warrants, but it can intercept the communications of Americans if they are in contact with a foreign intelligence target abroad.
In August last year, Russia granted Mr Snowden asylum for one year, after he leaked details of US electronic surveillance programmes.
The US has charged Mr Snowden with theft of government property, unauthorised communication of national defence information and wilful communication of classified communications intelligence.
Each of the charges carries a maximum 10-year prison sentence. Earlier this week he said he has "no chance" of a fair trial in the US and has no plans to return there.