NFL finds Miami Dolphins players bullied teammate Jonathan Martin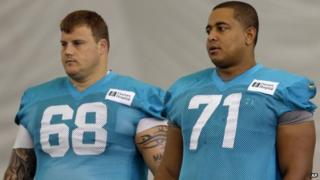 The US National Football League has determined a Miami Dolphins player was racially and sexually harassed by three teammates, a new report states.
Jonathan Martin, 24, was subjected to a "pattern of harassment" by Richie Incognito, John Jerry and Mike Pouncey, found the report.
Offensive lineman Martin abruptly left the team in October and underwent counselling for emotional issues.
Incognito, 30, was suspended when the claims surfaced in November.
'Breaking Jmart'
According to the 144-page report released on Friday, the three men hurled racist slurs and sexual taunts at Martin, including comments related to his mother and sister.
Incognito is white; Martin is mixed race. A Japanese assistant trainer was also reportedly the victim of racial slurs, the report stated.
Investigators also reportedly obtained a notebook in which Incognito had boasted about "breaking Jmart" following near-daily taunting and ridicule.
Incognito was found to be "the main instigator", who dictated a culture of poor behaviour within the sports team.
"We doubt that matters would have gotten so out of hand had Incognito not set a tone on the offensive line that made extremely vulgar taunting a typical form of communication," the NFL report found.
Fellow players Pouncey and Jerry were said to have followed Incognito's lead.
Martin, 6ft 5in and 312lb (140kg), left the team in October.
Incognito, barred from the final eight games of the season, had claimed the allegations were the result of locker-room "brotherhood" and not bullying.
The NFL has not offered comment on any punishments stemming from the report's findings.
Neither player is expected to return to the Miami Dolphins, the team's owner told US media.
Incognito is currently a free agent and Martin - with two years left on his contract - will probably be traded or released, ESPN reports.