US paediatrician Melvin Morse waterboarded young girl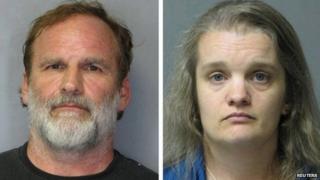 A former paediatrician in the US state of Delaware has been found of guilty of waterboarding his 11-year-old stepdaughter by holding her head under a kitchen tap.
Melvin Morse, 60, was convicted of one felony count and five misdemeanours.
Morse had styled himself an expert on near-death experiences among children, writing books and appearing on the Oprah Winfrey Show.
He was arrested in 2012 after the girl ran away and reported the abuse.
His medical licence was suspended following his arrest. He faces up to several years in prison.
Waterboarding is a term for the simulated drowning technique used by US interrogators on terrorist suspects during the Bush-era "war on terror". Critics say it is a form of torture.
Mother's testimony
During the trial in Georgetown, Delaware, Deputy Attorney General Melanie Withers said Morse would hold the girl's face under the tap, usually at the kitchen sink, and run water in her nose and mouth, causing her to choke, vomit, and fear for her life.
The girl told police he had held her face under a tap at least four times since 2009, in addition to dragging her across a gravel drive by the ankle and ruling all aspects of her life, down to when she could use the toilet and what she should eat.
Morse's defence lawyer, Joe Hurley, said the girl did not enjoy having her hair washed, so the family jokingly referred to the ordeal as waterboarding.
And his lawyer argued the girl had "oppositional issues" and had lied about abuse by a half-sibling in the past.
Pauline Morse, the victim's mother, pleaded guilty in 2013 to misdemeanour child endangerment charges and agreed to testify against Morse.