Does debt ceiling vote spell the end for John Boehner?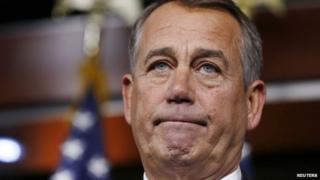 The era of wearying, gut-wrenching dysfunction in Washington, with government careering from the brink of one crisis to teetering on the edge of the next catastrophe, could just be over.
So could Republican House Speaker John Boehner's career.
While the debt crisis may be done for 13 months or so, this signals a new and more vicious phase in the Republican Party civil war.
Mr Boehner has torn up a plan to link raising the US borrowing limit to other policies, and now both the House and Senate have passed the rise and sent it along to President Obama's desk.
The US economy will be free of the threat of default for 13 months.
It is one of those stories that are hardly a story, because it is drama averted, crisis postponed. That doesn't stop it from being a very big deal.
'Plenty of sunshine'
Since winning the House in 2010, new, conservative Republican members have used both America's debt limit and budget deadlines to try to win policy battles, mainly over spending and Obamacare.
The result has been the occasional victory, but more often a government in gridlock, the air of a permanent crisis hanging over America's fragile economic recovery.
Conservatives argue dealing bluntly with what they see as problems that threaten America's very being is more important than the sense that government doesn't work.
For most of the time the speaker, Mr Boehner, let them have their way.
But by the end of last year Republicans' rating in the opinion polls had plunged to a new low.
Finally he has had enough - there's a delicious description of his grimly fatalistic announcement to his caucus in the Washington Post.
"We're not going to make ourselves the story," Mr Boehner reportedly said, ahead of the mid-term elections.
But his darkly humorous reaction to the lack of applause from his members says it all: "I'm getting this monkey off your back and you're not going to even clap?"
No wonder he left the room ironically humming: "Zip-a-dee-doo-dah, zip-a-dee-a, Plenty of sunshine coming my way."
Smart move or capitulation?
He has probably laid down his political life for what he sees as the sake of his party.
While the Republican establishment may breathe a sigh of relief, and while he will earn plaudits from DC pundits, many conservatives will see this as grotesque betrayal.
They argue it is part of a pattern - that in the past year he has abandoned his own rule and forced through bills with overwhelming Democratic backing, defying the conservative majority in his own party.
The Washington consensus that the tea party has finally grown up and seen the light simply doesn't stack up - Mr Boehner only got 28 Republican votes.
The tea party sees this as capitulation by the establishment to a Democrat agenda and one group is already campaigning for him to be sacked from the top job.
Conservatives will argue all this could be disastrous for Republicans in the election in November.
"You can't afford to have your base demoralised and that is what is happening," Dan Holler from conservative group Heritage Action for America told me.
"These are the people who knock on doors, drive people to the polls and if they are not out doing these things, you are taking a huge risk. It may look like smart politics in DC but the idea of alienating the base in an election year is astounding."
This is not just about 2014, but 2016 too. It is about what sort of Republican candidate fights the presidential election. At a conservative gathering recently, one activist told me the candidate should be the most conservative person who can be elected. His friend disagreed - conservatism alone was the test.
But that is ahead. For now the house speaker is in a precarious position.
Mr Boehner recently complained that uniting his party around a vote was like keeping 218 frogs in a wheel barrow.
At the time it struck me that this vivid metaphor was an image, not of something very, very hard, but of an impossible task, a frustrating, annoying, pointless waste of time.
So no more herding slippery customers for John. Maybe he has decided to give up the job this year, anyway.
If not, the speaker may discover the frogs have fangs, and find himself in the wheel barrow, heading for the dump.