US 'catastrophic' ice storm rolls north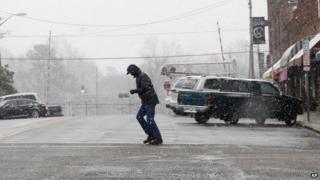 A "catastrophic" ice storm wreaking havoc in the American South is now poised to pummel the eastern seaboard, say forecasters.
More than 350,000 people are reportedly without power and 3,300 US flights have been cancelled due to ice and strong winds.
Nearly empty roadways were reported as many heeded warnings to stay indoors.
North Carolina and Virginia are bracing for up to 1ft (30cm) of snow as the storm rolls north.
Up to 1in (2.54cm) of ice combined with wind gusts of up to 30 mph (48 kph) snapped tree limbs and power lines in the South, cutting power to hundreds of thousands of residents.
The storm is forecast to drop up to 8in of snow in Washington DC and up to 10in in New York overnight.
The National Weather Service said it was an event of "historical proportions", drawing comparisons with similar weather systems that struck the Atlanta area in 2000 and 1973.
At least nine traffic deaths have already been blamed on the storm, including three people killed when an ambulance slid off an icy Texas road and caught fire.
But residents in Georgia appeared to have heeded official warnings after a sudden late-January storm stranded thousands of children in schools and saw drivers abandon their cars in an epic traffic jam around the city of Atlanta.
Georgia Governor Nathan Deal thanked the neighbouring state of Kentucky for offering salt and sand for the roads from their own caches. "We all try to help each other when we can," he said.
Mr Deal told those waiting for power to be restored to "be patient", saying he was hearing of "good response times" from the state's power firms.
Meanwhile, North Carolina Governor Pat McCrory urged residents to "stay smart", asking people to charge their mobile phones and find batteries for radios and flashlights in anticipation of power cuts.
Traffic was snarled in the state, especially in the city of Raleigh, as the snow began to fall in the early evening and prevented crews from clearing roads.