Fast and Furious: Man sentenced to 30 years for Brian Terry murder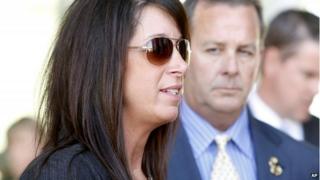 A Mexican man has been sentenced to 30 years in prison for the 2010 murder of a US border agent whose killing was linked to a botched gun-running sting.
Manuel Osorio-Arellanes pleaded guilty in October 2012 to Brian Terry's murder near the US-Mexico border.
Relatives remembered Terry as a dedicated family man and a "hero" at a sentencing hearing on Monday.
Weapons found at the scene of his death were linked to a US anti-gun-running scheme called Fast and Furious.
Under the Fast and Furious programme, US federal agents allowed criminals to purchase as many as 2,000 guns in order to trace them to major arms traffickers.
But the agents lost track of 1,400 of the guns, including two found at the scene of Terry's death.
A US justice department report has cited 14 people for possible disciplinary action for their roles in Fast and Furious.
'Human prey'
At Monday's sentencing hearing in a court in Tucson, Arizona, Kerry Terry-Willis, Terry's sister, described her brother as a loving and devoted family man and friend, the Associated Press reported.
"I would give anything to have one more dance-off with my brother," she said.
Osorio-Arellanes said he had entered the US state of Arizona from Mexico in December 2010 with fellow gang members to rob traffickers crossing into the US of the drugs they were carrying.
On 14 December 2010, Osorio-Arellanes and his gang engaged in a firefight with US border agents, in which Terry, 40, was killed and Osorio-Arellanes injured.
Osorio-Arellanes apologised several times in Spanish on Monday after a judge prodded him to do so.
He maintains he did not kill Terry, but authorities say he is culpable because he was a voluntary participant in the gun fight.
"You illegally entered the United States with the sole intention of committing armed robbery," Judge David Bury said as he handed down the sentence.
"There is no doubt that your prey was human. Law enforcement got in your way, as is their duty, and as a result a good agent died."
Osorio-Arellanes is the first person implicated in Terry's death to be convicted and sentenced. Two of the four alleged members of his gang are in Mexican custody.